Some Pretty Great Amazon Basics Products
Hang on for a minute...we're trying to find some more stories you might like.
Alright whats going on. Happy 2019. It is indeed a new year. Therefore it is a new me, and that means I will try to make these articles as professional as possibl- Ha! Screw that. Yo whats up welcome to this article where we will (as always) be reviewing, and ranking some of the coolest Amazon Basics products. Now you may know Amazon basics as the product line that makes things for pretty cheap, and as bare minimum as it really gets. So, without further ado, lets get into some of the products that I find the most interesting.
1. Rechargeable Batteries: Okay, lets start this list off with probably the most useful product. These (as the name implies) are rechargeable batteries. If you are any human being that uses a remote controller, or has electric toys, or I don't know, live in the 21 century, you most likely use batteries. And to pay for big pacts of energizer batteries every time they die on you will get pretty annoying. So, amazon has thought of these bad boys for you (and I know they aren't the only company that makes these). But they are very reliable. And though they may be a little on the pricey side, costing about $15 for a pack of 8. Those will last you for a pretty long time.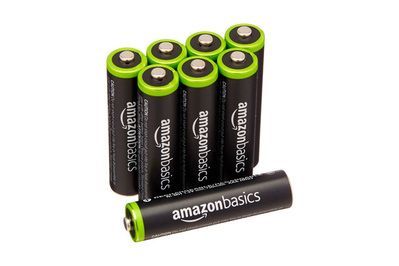 2. Display Port to HDMI Port: Next up, we have a product that I myself actually find very useful. This is mostly if you have ever had the problem of not having a display port on your computer. (I'm looking at you, Mac users). This would be great if you wanted to hook up a monitor with a display port to your computer, to get the full hertz of the monitor (frame rate, most monitors cap at 60 or 75) but in case you have one that is 100 hertz or over, this would be really useful for you. 
3. Cast Iron Skillet: Coming in next on our list, we have a pretty cheap cast iron skillet for all you chefs out there. This is for anybody that doesn't have much to spend on a skillet. But wants a nice pan seared steak (you know like the ones that Gordon Ramsay does). And to be honest with you, I really want that. Oh ya and how would I forget? It is oven safe for up to 500 degrees F. And it comes with a 1 year warranty (for all the people that will break a cast iron skillet). But, it is not dishwasher safe. So don't do that. 
4. Mesh Wastebasket: Last up on our list. We have me- uh I mean a trash can. This is a really aesthetic trash can that you can throw away all of your worries in. As well as your trash life decisions. Not only is this a great option for a cheap waste basket, but it will also have all of your friend in awe at the fact that you are so organized, and responsible, because they totally did not expect that out of you. New year new you after all!