Cool Cupcake Shops
Everyone likes cupcakes, there are many different and good flavors you could choose some. If you want to have a good cupcake or go to a cool cupcake shop in LA, here are a few cool cupcake shops to go to and try in LA.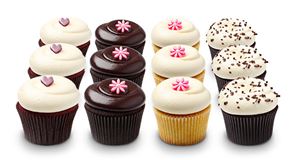 The first cool cupcake shop to go to Georgetown Cupcake. Georgetown Cupcake has an average rating of 4.6 on Google reviews, with 100 reviews. The Georgetown Cupcake shop is known for the TV show D. C. cupcakes. The TV show is about two sisters named Catherine and Sophie in which they take cupcake orders and go to events. The TV show basically shows how they manage their cupcake business. Georgetown Cupcake is located nearby Beverly Hills and Los Angeles on 143 S. Robertson Blvd 90048. Georgetown Cupcake can also deliver cupcakes to a party for you or special events.
The second cool cupcake shop that you should go to and try is called Sprinkles
cupcakes. Many people know the Sprinkles cupcakes shop. Sprinkles is located in Beverly Hills inside of the Grove, there are also a few more other Sprinkles cupcake shops located in Los Angeles. Sprinkles cupcake shop has an average rating of 4.1. Unlike other cupcake shops, Sprinkles has a cool Sprinkles cupcake ATM, where cupcakes come out of it. The founder of Sprinkles cupcake is actually a judge in the TV show Cupcake Wars.
The third cool cupcake shop to go and try is called Vanilla Bake Shop. The Vanilla Bake Shop is located nearby Los Angeles in Santa Monica, on 512 Wilshire Blvd.  The Vanilla Bake Shop has a few more locations on California. The Vanilla Bake Shop has an average rating of a 4.3  on Google reviews with 43 reviews. The Vanilla Bake Shop also sells not only cupcakes, but cookies too. They have many different flavors or cupcakes just like an other cupcake shop.
The last cool cupcake shop you should go and try, is actually not a cupcake shop, it is a cake shop and is called Butter Cake Shoppe. The Butter Cake Shoppe is located in Los Angeles on 1627 Hillhurst Ave, Los Angeles 90027. The Butter Cake Shoppe has an average rate of 4.7 with Google reviews.
Those are some cool cupcake and cake shops that you should go to and try. These shops are nearby and not to far so you could just drive to these shops and bakeries whenever you are craving, or just want a cupcake or cake.