Baltimore Ravens 7 Round Mock Draft
Hang on for a minute...we're trying to find some more stories you might like.
Head coach John Harbaugh has already held the season review press conference and had a lot of interesting statements. He said that they will invest heavily on the offensive side of the ball. He said they are looking to add more talent around Joe Flacco including receiver, tight end, and running back. He finally said that they will be looking to draft a quarterback and groom him until Flacco leaves the Ravens. Owner Steve Biscotti said that they will need to add extra depth especially at defensive end and inside linebacker. I am going to use all of these statements to make a potential mock draft that will address the teams needs.
Round 1 
Mark Andrews, TE Oklahoma-
The Ravens can do many different things with their first round pick. I do think that they will look to draft a receiver but most of the top receivers will be gone by pick 16. The Ravens have another need at tight end. Benjamin Watson is considering retirement and Nick Boyle Maxx Williams, and Darren Waller are coming of injuries. The need a reliable pass catching tight end that will take some of the pressure off Joe Flacco. Mark Andrews is the best tight end prospect their has been since Rob Gronkowski. He is big in size but is crazy athletic and is very fast. He has good hands and can run any route on the route tree. He did a good job at Oklahoma at run and pass blocking. He was Baker Mayfield's number one target the entire season and had a breakout year. Many draft experts have compared him to Travis Kelce who I think is the best tight end in the league. Joe Flacco also has a habit of throwing to his tight frequently. This would be a very smart pick for the Ravens to upgrade the offense by adding more explosive playmakers. Mark Andrews has a very high  celling and is a perfect fit for the Ravens.
Round 2
Anthony Miller, WR Memphis-
The Ravens GM has said that they believe that most of the talent at wide receiver this year is in the second round of the draft. Receivers are the biggest need for the Ravens this year and will most likely draft one in the first couple of rounds. They need a reliable receiver  because that is something they lacked all season. Anthony Miller is personally my favorite receiver in this class. He is a little undersized but that does not restrict him from doing much. He is extremely quick and is a playmaker. He runs great routes and has exceptional hands. Joe Flacco has a huge arm so him and Miller would be a good duo together. He would make a big impact on the offense because they desperately need receivers.
Round 3
Mike White, QB Western Kentucky-
Mike White was one of the players that had an very good Senior Bowl that bolstered his draft stock. He showed his pocket presence and his good accuracy. As I watched more games of him, he showed how great of a player he is. He could use some time to develop before getting thrown into an uncomfortable situation early. On the right team, he can have a very bright future. Joe Flacco is not going to be with The Ravens for ever. They eventually need to find a long term back up that can replace Joe Flacco. This draft class is loaded with quarterbacks and this is the best year to draft a future franchise quarterback. This scenario allows the Ravens to groom Mike White for a couple of years to get him prepared. This is better that having to put a rookie in right away and expect production. Mike White has a ton of potential and he would be a good fit for the Ravens.
Round 4
DaŚhawn Hand, EDGE Alabama-
DaShawn Hand has good height weight and speed to be a NFL pass rusher. He had good production at Alabama the time he was there. He was good at stopping the run but he exceled at getting sacks. He is more athletic than most offensive tackles so he has and advantage when going up one on one. The Ravens pass rush derailed towards the end of the season. They were not getting any pressure on the quarterbacks and were getting picked apart each and every game. Terell Suggs isn't getting any younger so they need to acquire more depth at that position. Adding DaShawn Hand with young talent like Matthew Judon and Tyus Bowser will improve the Raven's pass rush a lot. He is a player that could go very high but I think he will likely slip a few rounds.
Round 5
Cameron Smith, LB USC-
Cameron Smith is a very versatile linebacker. He mostly played inside linebacker at USC but occasionally played outside linebacker. He was a great open field tackler and was extremely reliable. He is fast and strong which makes him such a good tackler. He also did a good job in pass coverage against tight ends. The Ravens already have one of the best inside linebackers in the league with C.J Mosley. They need to add another good all around linebacker that they could pare next to him. The Raven's linebackers struggled all year with covering tight ends and slot receivers. Cameron Smith is a player that they can plug right in to not only help with the tackling but the pass coverage too.
Round 6
Kalen Ballage, RB Arizona State-
Kalen Ballage had a very impressive Senior Bowl game. He showed his speed and quickness through the line of scrimmage frequently. He is a big bodied back so he is hard to bring down . he did a great job at lowering his shoulder and running through the defender. The Ravens have a franchise running  back in Alex Collins but need more weapons. They already have Kenneth Dixon and Buck Allen who are two great young backs. Adding Ballage will make this running game scary adding a different type of running style. The Ravens want to get these backs in rotation to throw different types of runs at the defense and keep them on their feet. Kalen Ballage has a lot of potential and will add another weapon to a team that lacks them.
Round 7
Andrew Brown, EDGE Virginia-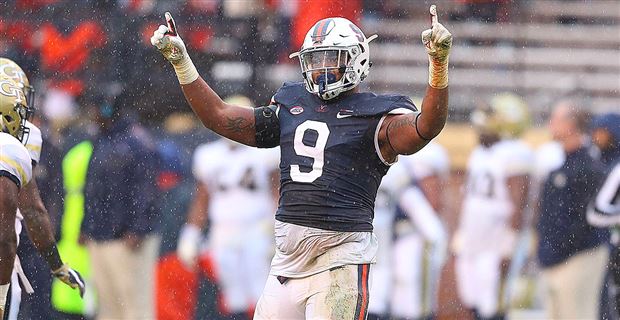 Andrew Brown showed many flashes during his career at Virginia. He has good size and strength but could work on how quick he gets off the ball. He did a great job at run stopping  and pass rushing this past year. He has a lot of potential and could possibly be a good role player. The Ravens will focus heavily on the offense this off season. Defensive end is a position that it never hurts to add depth. He will compete in training camp to fight for being in that rotation at edge rusher. Since he has such great size he could possibly play somewhere else on the defensive line. He had a great college career but he will be available in these later rounds and could possibly be the steal of the draft.