Top 3 Songs in The Greatest Showman!
Hang on for a minute...we're trying to find some more stories you might like.
I'm super excited about this article because today I'll be talking about one of the best movies ever! Well, at least I thought it was…anyway, today I'm going to be sharing with you my top 3 favorite songs in the new movie, The Greatest Showman. I first listened to the soundtrack because of my sister, since she's obsessed with musicals (so am I). I loved it so much that I listened to these same 3 songs like 30 times! I may or may not have also listened to it instead of doing my homework. Anyway, these are my top 3 favorite songs from The Greatest Showman!
3. THE GREATEST SHOW 
Of course since the movie is called The Greatest Showman, there has to be a song called The Greatest Show. This song personally isn't my favorite song, however it still is very catchy. The singers in this song are Hugh Jackman, Zac Efron, Zendaya, and Keala Settle. I really like this song because it goes from super slow and suspenseful to fast and upbeat. Another thing I love about this song is the background music. I know that it's weird that instead of the listening to the actual lyrics themselves I listen to the music, but it's actually really good! I'm surprised that my hearing isn't totally horrible because when I listen to this song, I put the volume all the way up! Overall, I think this is a very good song considering it's only the first one!
2. REWRITE THE STARS
This next song is called Rewrite the Stars, sung by Zendaya and Zac Efron. Now this song is definitely one of my favorites. This is more of slow love song kind of thing and if that's not your cup of tea then that's totally okay! I mean that's not really my kind of thing either but I still really like this song. My favorite part of the song has to be the chorus, I mean the high notes are awesome! The scene in the movie with this song was also awesome, spinning on a rope while singing is pretty cool! I'm no music expert but the harmony of the music I really good! That's why Rewrite the Stars is my #2! Here's the link because you HAVE to hear this song!!: https://www.youtube.com/watch?v=gdjR2lvIfJ4
3. THE OTHER SIDE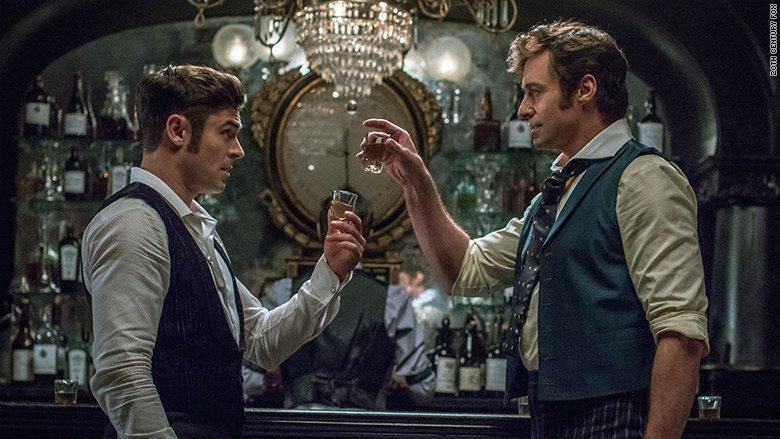 This is the last song and it is THE BEST! It's called The Other Side and it's sung by Hugh Jackman and Zac Efron. I know I said at the beginning that I listen to all of these songs super loud but for this song I turn my volume up all the way! Now that you probably think I'm crazy, I'm going to tell you what makes this song so great. It's kind of like a mixture of country and pop and I'm not really that much of a country music fan but obviously I love it or else it wouldn't be my top favorite! I also really like this scene from the movie too, you can get a glimpse of it from the picture above. Here's the link, seriously you MUST listen to this!! https://www.youtube.com/watch?v=Wk008ADh4iY
I hope you enjoyed this article on my favorite songs from The Greatest Showman! Overall I thought that the movie was incredible, and hopefully you get the chance to see it, and of course listen to the songs! They're great! That's it for this weeks article, bye!!